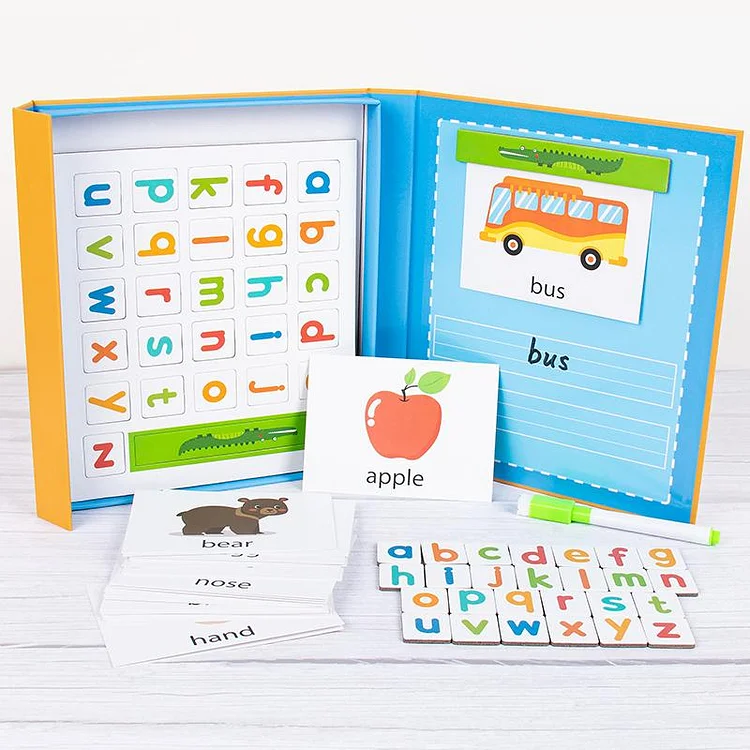 ✔️ Ships worldwide with track & trace
✔️ 30 days money back guarantee
✔️ Loved by thousands of children worldwide
✔️ New 2021 Montessori toy
Unlimited literacy games in one book

This one book offers everything your child needs to learn words, spelling and handwriting! The hands-on activities turn literacy into a fun game that accelerates the learning process.
Portable and lightweight

Loved by moms and grandmothers because it is a thin and lightweight book. You can easily slide it in your purse so your children can on-the-go, in the car or in a restaurant. The letters and markers are magnetic to keep them organized and sticky.
One book. Unlimited games.
The book includes the 52 magnetic lowercase letters (2x the alphabet), 30 double sided flashcards, a marker with eraser, and a magnetic piece to cover the words on the flashcards.
Play unlimited literacy games such as: match the words, handwrite the words, make your own words, handwrite the entire alphabet and so much more!