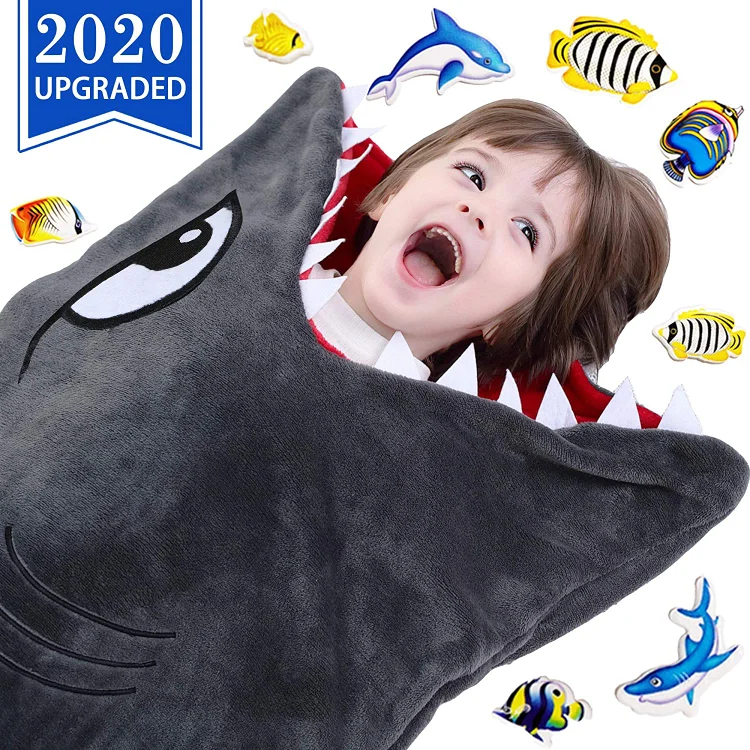 🐟【DURABLE DESIGN】Unified Body and tail. Save parents from tears and holes! Endures intensive pulling and dragging of alive and kicking children.
🐟【WARM and PORTABLE FABRIC】Fleece-like Flannel. Wearable warm blanket that comfort kids with warm and reliable feelings by super soft and smooth snuggie blankie mermaid plush Tails as seen on tv. Cool Christmas and birthday gift ideas!
🐟【ADORABLE and ENLARGED DESIGN】60 x 20 inches. Fit kids age 3 to 15 year old, up to 5 feet height. Adults can also take turns. Excite toddlers to be wrapped and run around! It's perfect for any camping, sleepovers, beach, road trips, movie time, and chilling throughout any season.
🐟【KIDS COMPANION and FUNKY SURPRISE】Snuggy Tails give children mental support and a sense of security. Surprised Kids will enjoy acting like being eaten by a funny jaws shark attack!Your kids will stay happy and comfortable as this blanket comes in lively colors and awesome soft jaw, fins and teeth
🐟【100% MONEY BACK GUARANTEE】We are committed to serving customers with reliable quality products, CozyBomb continues to deliver the best user experience with innovative technology from a trusted brand. Full refund within 30 days. Buy with confidence as this snuggle sack is a must-have growing-up buddy for kids. Please feel free to contact us if you have any request, we will solve your problem within 24 hours!
🐟 Bring Kids Imagination and Excitement! 🐟
🐟 Customer Shared Video
https://www.youtube.com/watch?v=0NzRcI_SY5U&t
🐟 Customer Service Contact
✔️ Customer@CozyBomB.com
🐟 Why CozyBomB?
✔️ The newest design launched in 2018
✔️  We use the smoothest and warmest fabric
✔️  Strong customer support 
(Reply in less than 1- 8 hours + 2-day replacement delivery) 
🐟 Material
- Expertly tailored Flannel (The smoothest fabric)
🐟 Package Included
Funky Shark Tail Blanket x 1 
Ocean Animal Sticker x 10
🐟 Features
- Super comfy snuggle blanket for the child to climb in and wiggle their feet into the fins! 
- Best for girls and boys from 3 to 15 years old. 
- Perfect using on the couch, for camping, sleepovers, in bed, in the car or anywhere in all seasons.
- Unique gift idea and surprise for our beloved ones.
🐟 Careful Instructions
- Wash by hand or machine with cold water before using 
- Prefer natural dry and store in a cool and dry condition
🐟 Warranty and Guarantee
- Under industrial-standardized quality control, defective rate is minimized, yet still possible
- Contact us for replacement or money back if defectiveness is found on the day of arrival
🐟 Our Vision
Kids excitement and imagination are our best motivation
We believe that love and warmth can be spread via this funny blanket
We are committed to investing at least 1% of revenue to non-profit programs in developing countries, to help kids there with no blanket to keep warm