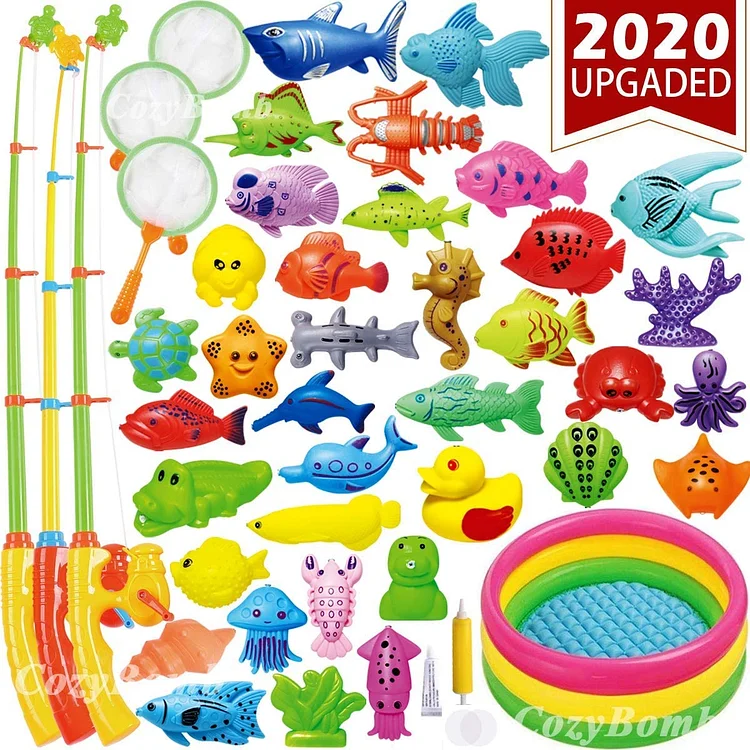 🐟【PERFECT SUMMER TOY】Contain various sizes, more than 10 colors and 36 kinds of toy fishes animals
🐟【MULTI-PLAYER GAME】Designed for kids vs kids or parent vs kids interaction and competition. Let's go fishing and role pretend play carnival together! Game instruction and rules are included. Nice Christmas Gift for kids!
🐟【ALL-ROUND EDUCATION】Good for hand-eye coordination, colour recognition, interpersonal skills and also math for 3 to 6 year-old boys and girls
🐟【DURABLE POLES】The best rod model with solid plastic and anti-corrosion strong magnets selected. Perfect natch with water table and kiddie pool summer aquatic party favors!
🐟【100% MONEY BACK GUARANTEE】Risk-free trial! Full refund within 30 days. Buy with confidence as this fishing game is kids' must-have grow-up buddy
Why CozyBomB?
✔️ Designed by The Hong Kong Designer Group
✔️ We use the best durable pole model and large fish type
✔️ Safety ensured (Certified with ASTM and CPC)
✔️ Strong customer support
Service Support
✔️ Customer@CozyBomB. com (Reply in less than 1- 8 hours + Free replacement for product defective)
***
- The color and kinds of fishes/marine organism may vary
- Do not try to collect all kinds of animals as we will keep adding more species!
Care Instructions
- Wash the toy set before giving to the kids
- Fishes are made by medium-strength durable plastic which is not for the baby bit
- Small parts included. Playing under parent instruction
- Under industrial-standardized quality control, defective rate is minimized, yet still possible
- Find us for replacement or refund if defectiveness is found on the day of arrival
Our Vision
Kids' excitement and imagination are our best motivation. We believe that love and surprise can be spread via this fishing combo. We are committed to investing at least 1% of revenue to non-profit programs in developing countries, to help kids there with no toys to play with.