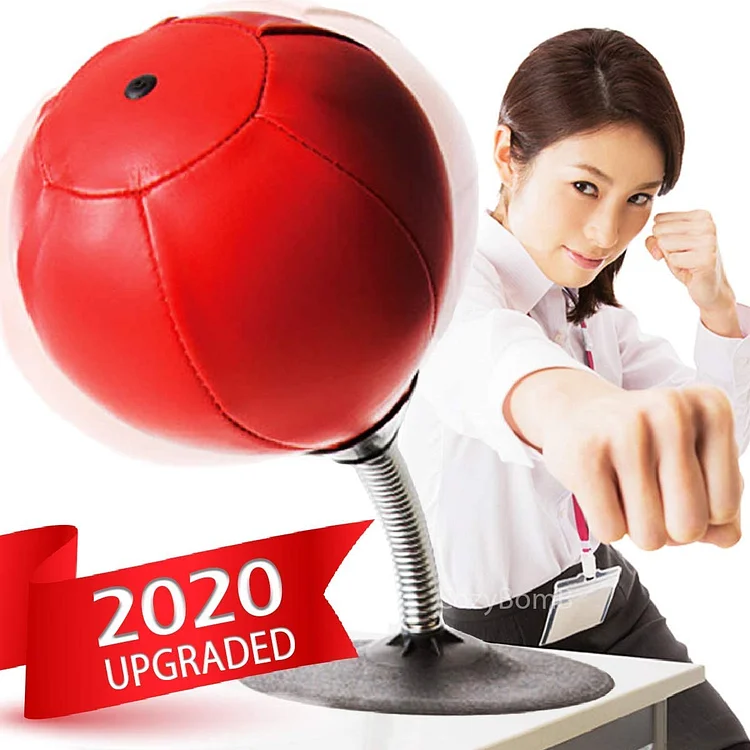 👊【PERFECT RELIEVE STRESS 】Take away office strain and comfort hyperactive kids by hitting this table top punching bags.
👊【 A TASTE of BOXER 】Experience the training of professional boxer to punch speed bags. Nice Christmas gift choice!
👊【 TRAINING and EDUCATIONAL TOY 】Improve ADHD kids, the elderly and convalescents' hand-eye coordination, increasing speed, and agility.
👊【 SET UP in 1 Minute 】Package consists all the assembles and easy to install. Fun gag toys in office!
👊【 100% MONEY BACK GUARANTEE 】Full refund within 30 days. Funky gift idea for children and adults.
Release Stress and Tensions by Punching the Ball nearby!
Service Contact
✔️ Customer@CozyBomB.com
Why CozyBomB?
✔️ We choose the best model punching bag
✔️ Strong customer support  (Reply in less than 1- 8 hours + Free replacement delivery)
✔️ Under industrial-standardized quality control, defective rate is minimized, yet still possible.
✔️ Find us for replacement or refund if defectiveness is found on the day of arrival
Package Included- Punching Ball (With protection ring and logo) x 1
- Suction Cup x 1, Stainless Steel Spring x 1, Pump with Needle x 1, Instruction Card, Colorful package box as a gift
Care Instructions
✔️Clean the dust on the desk and the suction cup by moistening them and dry it with a towel before installation !!!
- The suction cup is not applicable for undulant or wet surface
- The needle is placed in the handle of the pump
- Ensure all components are strongly assembled before punching
Features
- 14"Height and 7.1" Width
- The bag made of high-quality synthetic leather that can withstand the beating from fist and long-lasting
- Best for comforting hyperactive kids and stressed adult
Our Vision
Human excitement and imagination are our best motivation.
We believe that Love and Comfort can be spread via this Funny Punching Ball.