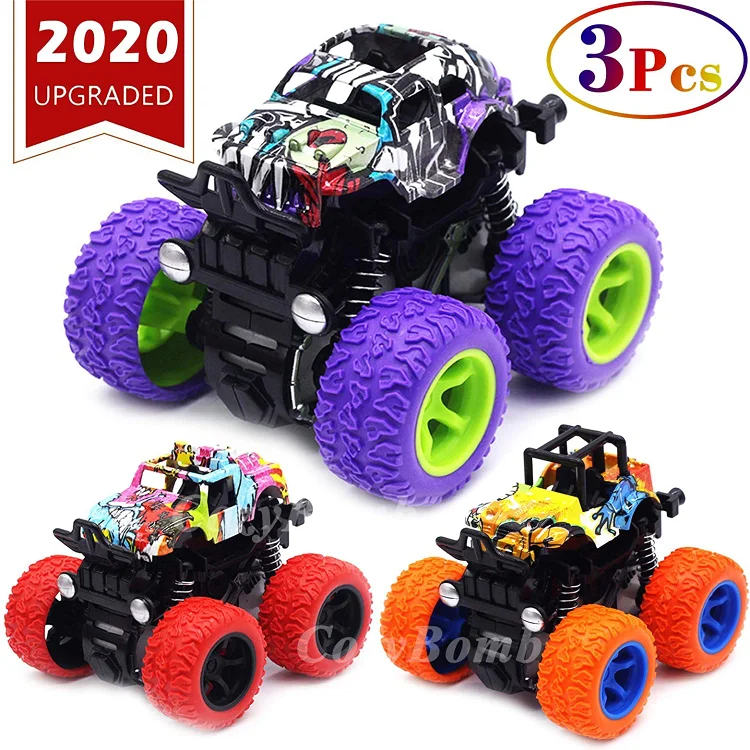 🚗 【360 ROTATING STUNT】Kids will be surprised by the upright running and 360° rotating stunt! Revolving the wheels and putting the vehicle upright, you can see the hot rotating wheel trick! Amazing designs for boys and girls. It can be played on any ground with ease and confidence, be it in sand, grass, muddy patches or rocky trial paths. Splash-proof and weather-proof. Suitable for your kids or toy cars lover.
🚗 【COLORFUL GRAFFITI PAINTING】Stimulate toddlers' colour recognition and imagination with this eye-catching 3-pack mini monster truck combo that comes in a different vibrant color that will surely liven up any kid's room or toy box! An exquisite gift for Christmas, birthday summer party supplies and decorations. It's an amazing push and go car for kids so they'll enjoy and have fun to drive as they want. 
🚗 【LIFELIKE BODY WAVE】Transmitting the friction power ( no battery needed) from the wheels to the upper body of the car. Creating a body wave to imitate a real monster truck running on the uneven surface. Easy to play for kids. Kids just pull the monster truck back and let it go as they want.
🚗 【DURABLE HIGH QUALITY MATERIAL】Made with ABS sturdy plastic that ensures the intense play by toddlers and kids. With shockproof protection that protects the body and avoids the crash. With 4 shockproof spring, and rubber tires that make the driving smoother even on uneven roads. Push n go!
🚗 【100% MONEY BACK GUARANTEE】We are committed to serving customers with reliable quality products, CozyBomb continues to deliver the best user experience with innovative technology from a trusted brand. Full refund within 30 days. Buy with confidence as this Colorful Truck Combo is a kids' must-have toy to add to their collection. Please feel free to contact us if you have any request, we will solve your problem within 24 hours!
A SUPER EASY TO OPERATE, Friction Powered, No Battery Required Monster Truck
Just push the friction car forward then let it go and it will run a long distance. No battery required. Perfectly designed for kids aged 3+ for them to easily operate it. No complicated winding and complex remote controls. The children can play vehicles freely and safely without parents' or any adults supervision. What's best is that the monster toy cars come in handy and can be put in any bag or pouch which means the children can take the toys wherever they want to go.
BRING COLORFUL MONSTER TRUCKS TO KIDS!
SERVICE CONTACT
✔️ Customer@CozyBomB. com
(Reply in less than 1- 8 hours + Free replacement for product defective)
- Under industrial-standardized quality control, defective rate is minimized, yet still possible
- Find us for replacement or refund if defectiveness is found on the day of arrival
- Small parts included. Playing under parent instruction. Not suitable for children under age 2
WHY COZYBOMB?
✔️ Designed by The Hong Kong Designer Group
✔️ We select the best combo of toys
✔️ Strong customer support
ComBo Included
Monster Truck x 3 (Graffiti Cover with 3 fixed color wheels - Orange, Purple, Red)
Size: 3.6 inch x 3.15 inch x 3.15 inch height each
Packaging Box x 1
(The drawing of the graffiti cover may vary a little bit but the overall pattern is similar)
OUR VISION
Kids excitement and imagination are our best motivation.
We believe that love and surprise can be spread via this monster truck combo.
We are committed to investing at least 1% of revenue to non-profit programs in developing countries, to help kids there with no toys to play with.