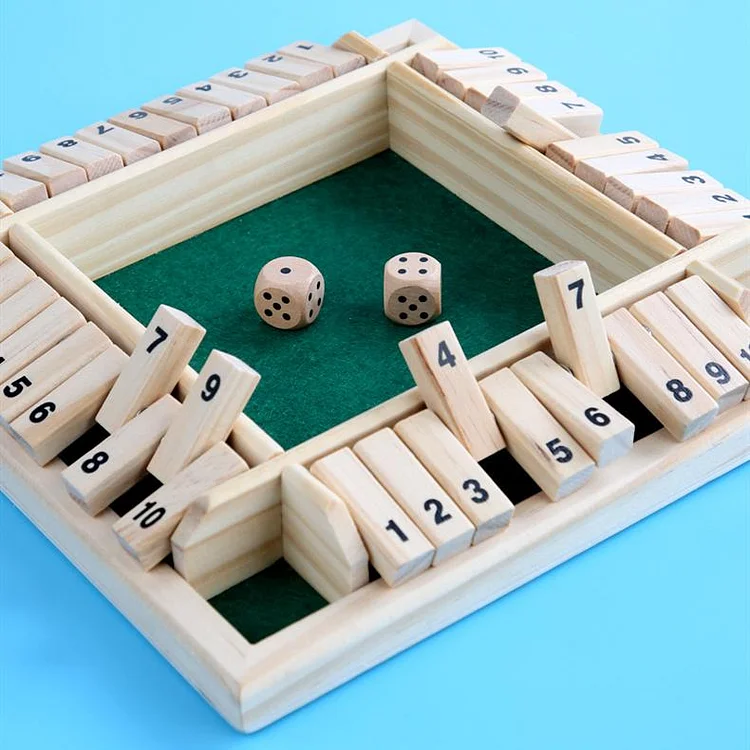 ✔️ Ships worldwide with track & trace
✔️ 30 days money back guarantee
✔️ 100% secure checkout
✔️ You support a family business

Product description
The fun family game for young & old: the player rolls the dice, adds up the values, and then lays down the tiles that have the sum.
Kids don't realize they are learning math - the older they get, the more they like it
Beautifully crafted from wood with wooden dices
It's great activity for homeschool, classroom, grandparent day care or family game night
Can be played with 2-4 players or alone
How to play
The game starts with all the numbered tiles, from 1-10, open. The player rolls two dices and then shuts tiles whose numbers add up to the total on the dice.
So if a player rolls a nine she can choose to shut the 9 tile, the 8 and 1 tiles, the 6 and 3 tiles, and so on. She can't shut the 4, 3, and 2 tiles because the 2 tile has already been shut.

The player then rolls again and shuts a new set of tiles to match her new number. Her turn ends when she can no longer shut tiles to match her number. She passes the dice to the next player.
The combination of the numbers left uncovered after the game is the player's score. The player with the lowest final score wins.