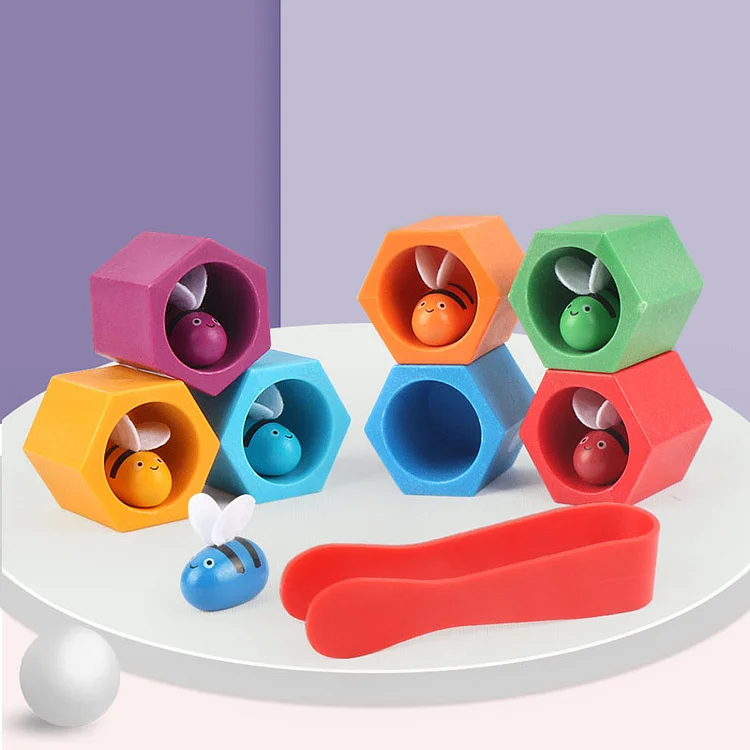 Features:
Improve color awareness
Each bee has a hive with a corresponding color, allowing children to improve their cognition of colors through color matching game.
Fine workmanship
The toys have been carefully polished, the surfaces and edges are smooth and burr-free, you don't have to worry about your child's hands being scratched.
High-quality material
Made of eco-friendly wooden material, this product is non-toxic, odorless and is harmless to human body, children can play as much as they want.
Nice gift
This toy set introduces basic counting and color recognition knowledge to children. It is a great birthday gift or holiday gift for boys and girls.


Notices:
a. The wood will swell and deform when it meets with water. It cannot be washed directly with water. You can gently wipe the surface with a clean cloth.
b. Wooden toys are prone to black and mildew when exposed to damp, it is recommended to dry them in the vents from time to time
c. Cracks will appear on the varnished wood when exposed to the sun for too long. It is recommended to keep it in a cool place.

Specifications:
Type: Honeycomb color matching toy
Material: Wood
Quantity: 1 set
Item Color: As shown
Applicable Age: over 3 years old
Size: 4.7*4.2*4.7cm/1.85*1.65*1.85 (beehive) (L*W*H); 3*1.5cm/1.18*0.59inch (bee) (L*W)
Weight: 650g/22.93oz