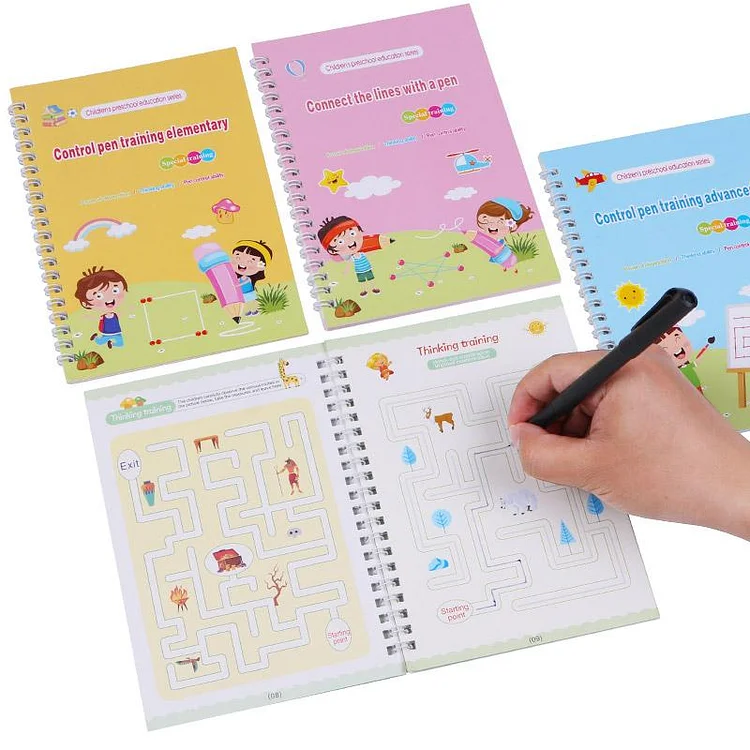 ✔️ Ships worldwide with track & trace
✔️ Gioqo is loved by 75.000+ kids worldwide
✔️ 100% risk-free money back guarantee
✔️ You support a family business
Penmanship

Pen control & tracing practice for kids
Help your children practice handwriting with this new pen control & tracing workbook bundle. It turns a frustrating exercise into a fun game for kids!
Magic

Disappearing ink

The disappearing ink lets your little one practice it over and over again. It magically disappears afters 30-45 minutes.
4-in-1

Four workbooks in one bundle

This exclusive bundle includes four workbooks, all full with pen control & tracing exercises and games. It comes with a pen, 5 ink refills and a pen grip.
Educational

Screen-free learning through play

The bundle not only offers teachings for handwriting, but it also helps children develop their hand-eye coordination, fine motor skills, and drawing skills. These are all skills developed in a screen-free experience without any electronics needed.

About us

Why Gioqo

Gioqo is small family business, loved by 75.000+ children worldwide, with a mission to replace children's excessive screen time with screen-free homeschool toys. Our vision is a world where children use a healthy dose of technology but spend most of their playtime and learning in the real world.