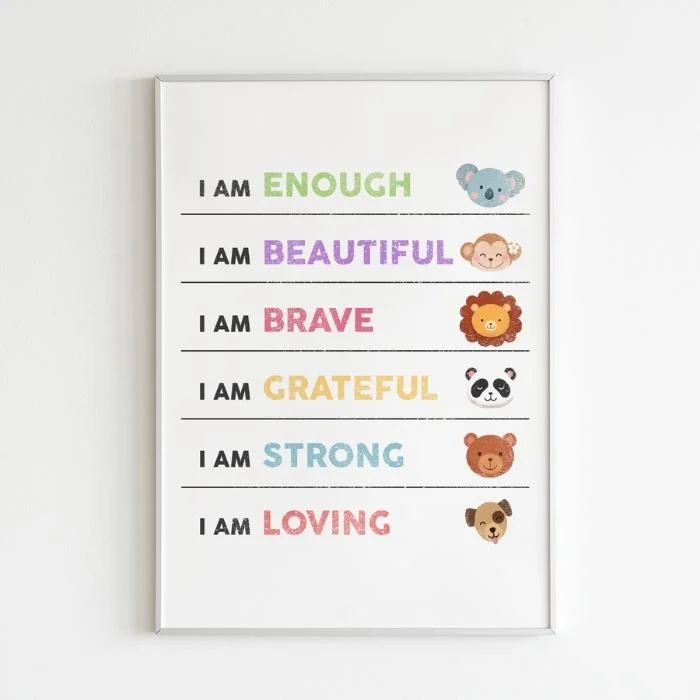 ✔️ Instant digital download printables
✔️ Includes 7 high-resolution files
✔️ Ready-to-print for A2/A3/A4 frames
✔️ 100% risk-free money back guarantee
Mental health

The importance of mental health

The mental health of your children is just as important as their physical health. But discovering who they are and what they can become is a challenging process. Self-doubt, bullying or insecurity can stop children from loving themselves and thinking big.
Print-at-home

Printable positive affirmations for kids

This printable positive affirmations bundle is designed to help children understand that they are enough, beautiful, brave, strong and that they can feel love and gratitude.
Hang the artworks in their bedroom as a daily reminder to repeat and say out loud "I am strong!".
The colorful animals are beautifully illustrated to become your child's next best friends.


Affirmations

Proven by science

The 'self-affirmation theory' from 1988 of psychologist Steele proves that positive affirmations lead to positive thinking. By repeating the phrases daily, it actually rewires the brains and you will start believing in them.
Risk-free

Download, print and frame it now

You can download the bundle instantly and print and frame it at home. If you are not satisfied with the results, we offer a 30 day money back guarantee. Give it a try.