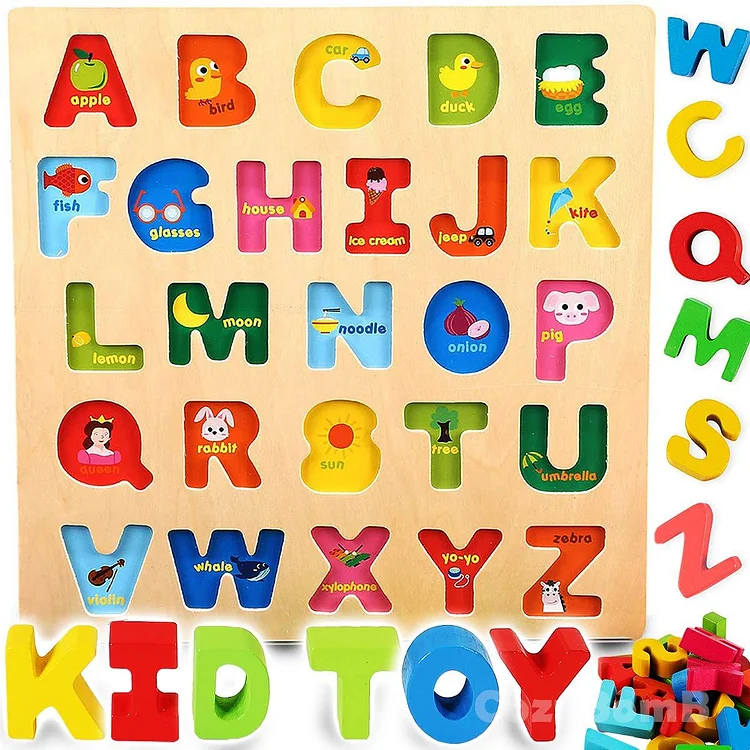 🌈【EARLY DEVELOPMENTS】Develops colors recognition, hand-eye coordination and imagination.
🌈【PERFECT SIZE】The best first wood letter puzzle, easy for little hands to grab than a pea sized peg puzzle.
🌈【AWESOME GIFT IDEA】Create fun time for kids ages 2-5 learning letters and words. 26 colourful sturdy abcs puzzle blocks with cute little animals & objects pictures.
🌈【SAFE AND ENVIRONMENTAL FRIENDLY】Made of 100% natural wood with non-toxic water-based paints.
🌈【100% MONEY BACK GUARANTEE】Risk-free trial! Full refund within 30 days. Buy with confidence and give kids learning alphabet fun!
The Perfect Educational Toys for Toddlers - Sense of Achievement and Building Learning Motivation
Bring Fun Learning to Kids!
Customer Contact
✔️ Customer@Cozybomb. com
(Reply in less than 1- 8 hours + Free replacement for product defective)
Why CozyBomB?
✔️ Designed by The Hong Kong Designer Group
✔️ We use the natural wood
✔️ Safety ensured (Certified with ASTM and CPC)
✔️ Strong customer support
- Under industrial-standardized quality control, defective rate is minimized, yet still possible
- Find us for replacement or refund if defectiveness is found on the day of arrival
Our Vision
Kids excitement and imagination are our best motivation. We believe that love and surprise can be spread via our products and service. We are committed to investing at least 1% of revenue to non-profit programs in developing countries, to help kids there with no toys to play with.